If you, or a friend, have been hoping for a smile transformation, Dr. Lynda is just the person to help you! She has been an artist her entire life and brings those skills to delighted patients every week for decades. On this page we will show you a few before/after photos from each of the 5 main categories for smile make-overs. Take a look and we hope to welcome you, or a friend, soon for this sort of smile up-date... No sense having a smile that looks 20 years older than you do!
In the series of photos to the left , you'll see many examples of a technique called "Cosmetic Bonding." Dr. Lynda has mastered this method of using tooth colored plastic to make teeth appear whiter, close gaps, make teeth look straighter, or shaped differently to created a winning smile.
Best of all, it is the most affordable option when a smile really needs a make-over!
To get results like this takes decades of experience, but in the right hands, you will see that Cosmetic Bonding can transform lives by improving self-image, and making people proud to smile again!
Dr. Lynda often teams up with specialists like orthodontists and periodontists who do their work first, and then she brings a healthy smile into beautiful cosmetic symmetry.
CONSUMER TIP about Cosmetic Bonding: Before accepting a treatment plan for cosmetic changes, always ask to see un-edited Before/After photos of the dentist's very own patients with your similar situation. All dentists who have mastered cosmetic dentistry should be able to show you hundreds (if not thousands) of photos. A dentist who truly has a passion and expertise for this aspect of dentistry will have used photography to document almost every single case and will be ready to show you their work with great pride.
Can you see yourself, or someone you know, in the same situation as the people in these before/after photos? Gaps, one or two teeth sticking out strangely, teeth shifting after you stopped wearing your retainers, or crowded teeth that should have been treated with braces decades earlier?
Invisalign is a fabulous way to improve smiles without conventional metal wires and brackets, using a series of clear plastic trays that are almost invisible while you work your way through treatment. Invisalign uses a virtual reality approach to move teeth to the desired position in the computer. Then it creates a series of clear plastic trays that you change every two weeks, slowly moving your teeth to match the original digital mock-up.
We have been using Invisalign to help our patients since 2006 so we can help you decide it this is a good option for you.
CONSUMER TIPS concerning Invisalign : It's important to know that Invisalign has its limitations. Many people who want Invisalign are not good cases for this method of moving teeth, and in fact, the technique could make things worse.
Also, before accepting an Invisalign treatment plan from a general dentist, be sure to ask about how long they've been doing Invisalign, and again, ask to see Before/After photos of their own patient outcomes. Most of the dentists who take this technology seriously, take many photos and are proud to show them.
Many people with big smile problems put off going to the dentist because they fear three things:
1. Being lectured or shamed
2. Being told they need $20,000 worth of crowns
3. Having to go through a painful ordeal
At Fiddlehead, none of those things need to be in your thought process. Dr. Chuck and Dr. Lynda just didn't get the "lecture gene," and we have the latest comfort technology. You will feel supported and valued like family in our office, from our very first meeting.
Most importantly, Dr. Lynda has the skills to make the most amazing transformations without using expensive techniques that cost thousands per tooth!
While we know the smiles at left are not perfect, every week Dr. Lynda gets many hugs from people whose lives have dramatically changed with this Advanced Cosmetic Bonding Technique.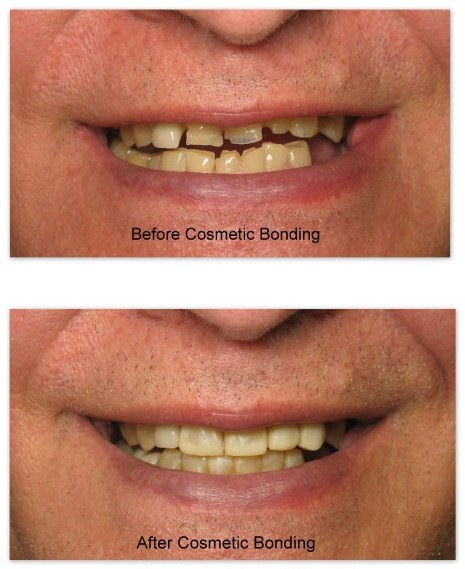 At Fiddlehead Dental, one of our favorite ways to help others is to turn back the clock on smiles that are not what they once were.
Age is often a factor, and people in their 70's, 80's and 90's often suffer with smiles that have simply been ignored from a cosmetic standpoint.
But sometimes we restore smiles for people in their 30's, 40's and 50's whose teeth have worn down so severely that they look 20 years older than they actually are!
CONSUMER TIP: If your front teeth are significantly shorter, thinner and chipping on the edges, these are signs of a complex problem that will eventually leave you with almost no visible teeth in your smile. Simple white fillings might fix the chips for a short time, but they will eventually fall out repeatedly.
It's difficult to explain this process simply here, but if you have any of the signs I just mentioned, it is time to see a dentist with an expertise in restoring smiles. We do several of these consultations each week and can share some very innovative ways to keep the wear and tear on your teeth to a minimum over the years.
Porcelain Veneers are thin porcelain shells that fit over the front of each tooth, much like a false fingernail covers your natural nail.
They are expensive, but when done well, they are the most long lasting way to create a dazzling smile.
The average life for porcelain veneers is 10-12 years, but I have done veneers for patients that are still beautiful after 20-25 years.
Fun Fact: Some of you know that porcelain veneers are all the rage in the TV shows where people get extreme make-overs. But unless they are done with great precision, that pearly white smile will be short-lived.
As always, ask about the experience your dentist has with this technique.
CONSUMER TIP: There are dentists who recommend Porcelain Veneers to solve most cosmetic problems, but veneers are very rarely the only or best option. For instance, if you don't have exactly the right "bite," you may break these expensive shells of porcelain or knock them off frequently. Also, if you have many large fillings in your front teeth, the veneers may not stay put! Most importantly, sometimes cosmetic boding will achieve the same goals at a fraction of the cost. Make sure you know all your options, and the pros and cons to each.
This is the technology of the future and the way most teeth will be restored eventually, but for now, only 1% of dentists in the world use this 3D imaging technique regularly in their practice.
At Fiddlehead Dental, we are in an even more elite group of dentists for two reasons:
1. We started with the technolgy when it was in its infancy (2003) so have restored over 10,000 teeth with it.
2. We are among a tiny group of innovators who have found a way to use the computer technology to preserve all your healthy enamel.
We can help you avoid "caps" and "crowns" which require the dentist to shape your tooth down to a nub.
Instead, 13 years ago we started using CEREC to make porcelain puzzle pieces that replace only the part of your tooth that has decayed or broken; leaving the remaining healthy enamel.
CEREC fillings and crowns are almost invisible and now, after so many years, most of our older adult patients have mouths that look like they've never had a cavity in their lives.
Oh!.. one more thing!.. We have found that CEREC teeth need far fewer root canals and build ups.
When your teeth are too fragile to restore with CEREC (our computer technology), or Cosmetic Bonding, then "caps" and "crowns" may be the best solution.
They fit over your tooth like a thimble fits over your finger, are cemented into place permanently, and prevent your teeth from being lost to fracture.
Very often, caps and crowns can change your smile in a lasting way like no other procedure. While expensive, the results can be amazing, strong and leave you almost worry free when it comes to having a beaming smile.